Lupita Nyong'o graced this month's issue of Vogue magazine with her regal presence in a gold Valentino haute couture dress that's fit for a queen. In the accompanying interview with Plum Sykes, the Academy Award winner discussed growing up in Kenya, incorporating what she learned from her training at Yale, and filming the latest addition to the Star Wars franchise. She also touched on her mother's influence on her love for fashion and the beautiful way that her country celebrated her historic Oscar win.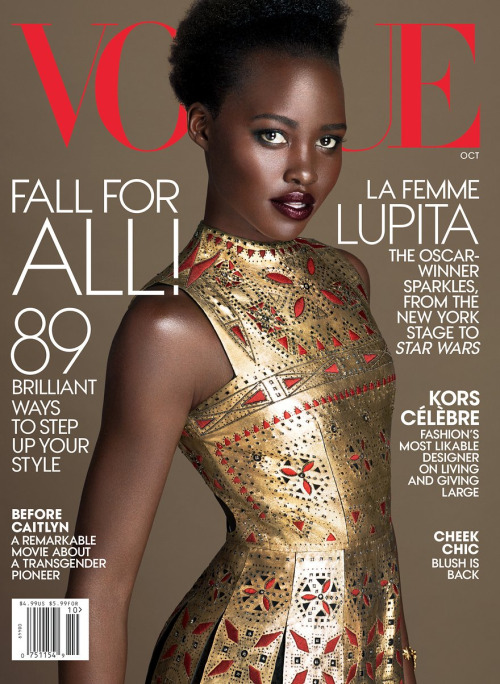 Lupita Nyong'o for Vogue magazine's October 2015 issue
In the stunning photoshoot captured by Mert Alas and Marcus Piggott, Lupita is shown wearing the latest couture gowns from fashion powerhouses such as Chanel, Dior, Dolce & Gabbana, John Galliano, Schiaparelli, Gaultier Paris, Atelier Versace, and Givenchy.
Scroll through the succeeding pages to see the gorgeous Kenyan actress in a series of beautiful photographs, and get snippets from her interview in the latest issue of Vogue: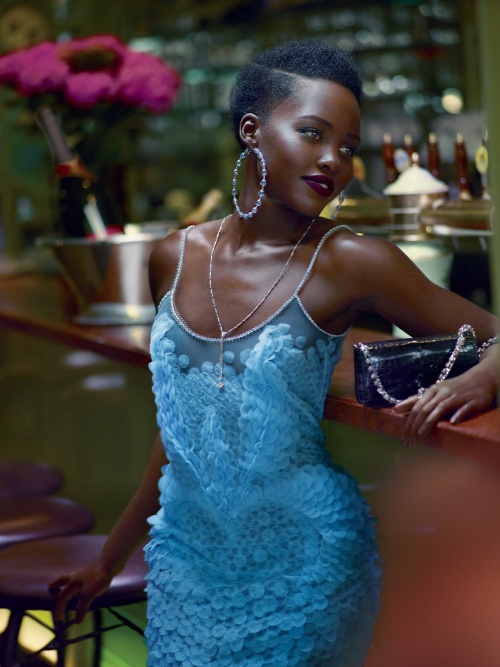 Lupita Nyong'o wearing a Tiffany & Co. necklace and Givenchy by Ricardo Tisci Haute Couture lace dress, earrings, and bag
"Presentation is extremely important in Kenya. You dress formally. You can't just wear flip-flops. My mother always had her own style. She wore A-line, tea-length flowery dresses, very well fitting. Her nails were always perfectly done."
-Lupita Nyong'o on her first fashion memory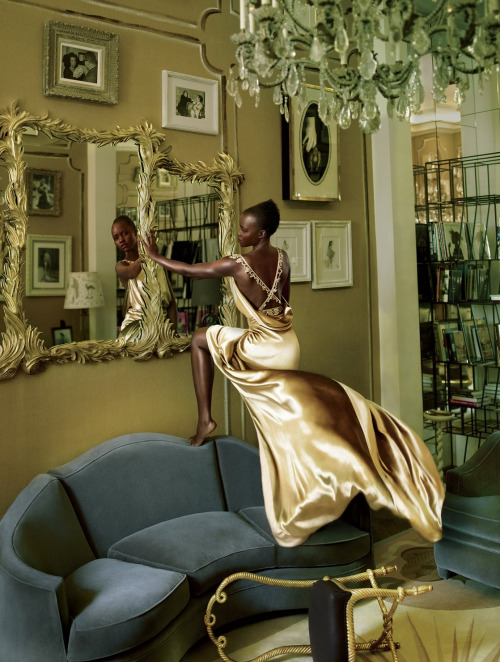 Lupita Nyong'o wearing Schiaparelli Haute Couture velvet dress
"My training at Yale is the core of the actor that I am. Before that I was just going on instinct…having my imagination take over. But Yale taught me that it's about giving yourself permission to pretend."
-Lupita Nyong'o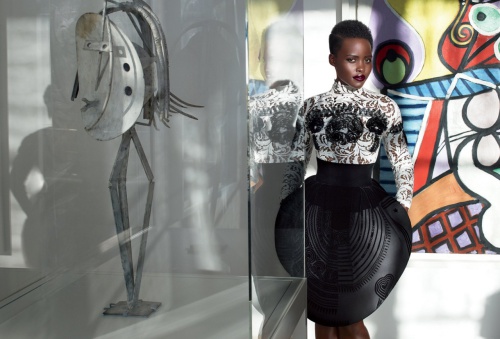 Lupita Nyong'o wearing a Gaultier Paris lace bodysuit and satin skirt
"I really enjoyed the fact that you're not governed by your physical presence in that kind of work. You can be a dragon. You can be anything."
-Lupita Nyong'o on filming Star Wars: The Force Awakens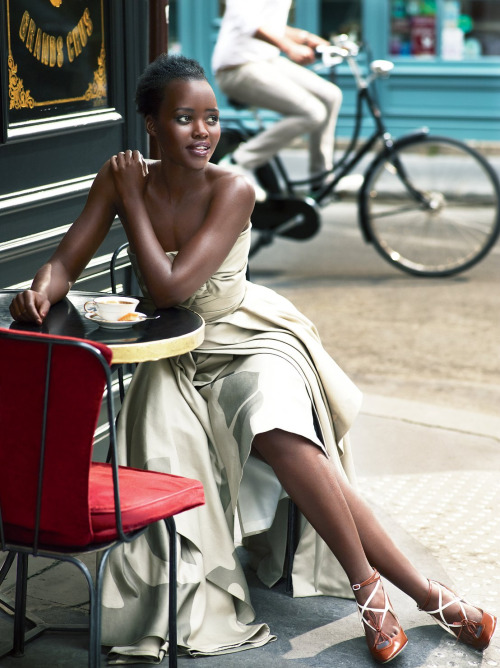 Lupita Nyong'o wearing a John Galliano dress and heels
"Oprah Winfrey advised me to figure out what my intention is and to act on it. I think I can make a difference by having certain stories be told. But it's in the hope that I will not always be the only one telling them."
-Lupita Nyong'o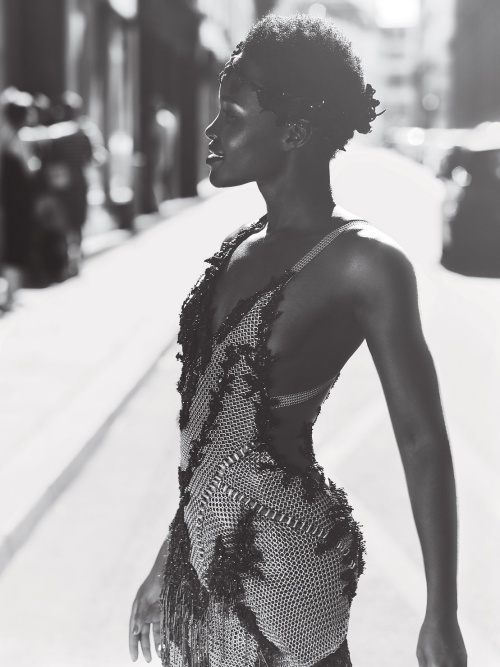 Lupita Nyong'o wearing an Atelier Versace embroidered chain mail dress and chiffon headband
"One amazing thing about filming in Uganda was that on the first day of rehearsal we were all barefoot. I looked down and all the feet were my complexion. That had not happened to me before. I was reminded that I'm actually not that special. There are lots of people in the world who look like me."
-Lupita Nyong'o on filming Queen of Katwe in Uganda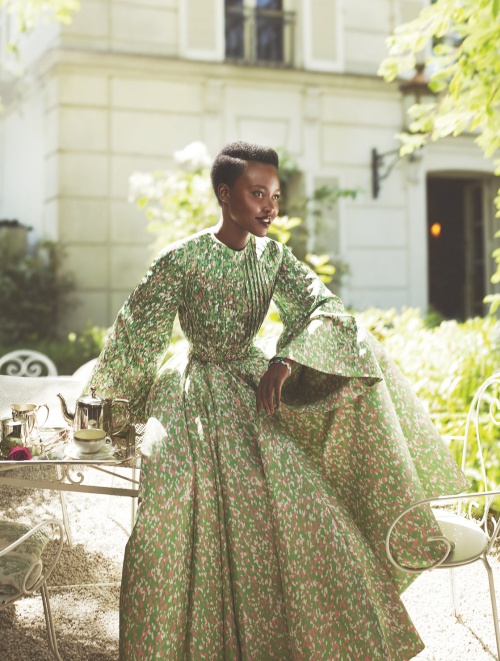 Lupita Nyong'o wearing a Dior Haute Couture silk-faille coat and Dior Fine Jewelry bracelet
"What can I say? I'm a Pisces. I have the soul of an 80-year-old woman inside me."
-Lupita Nyong'o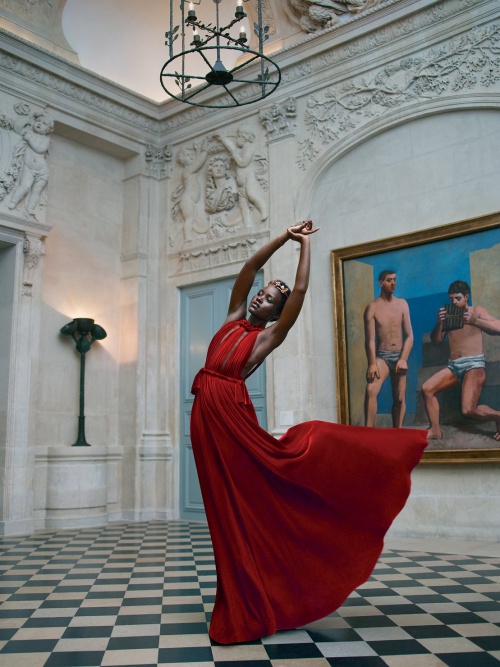 Lupita Nyong'o wearing a Valentino Haute Couture velvet dress and headpiece
"In Africa there is no nationalism that comes with things like winning an Oscar. It's traditional to be welcomed and celebrated. Praise songs, which are the highest honor in Kenya, were sung for me, and they included lines from my Oscar speech."
-Lupita Nyong'o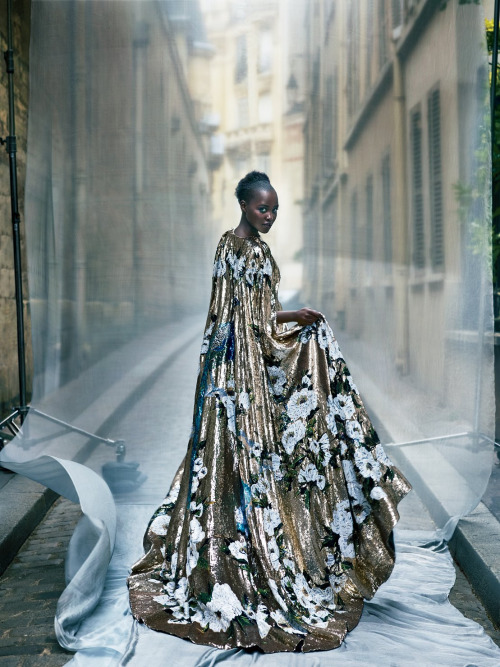 Lupita Nyong'o wearing a Dolce & Gabbana Alta Moda sequined cape
"I didn't know the power of couture until I tried on a couture dress. It made me cry."
-Lupita Nyong'o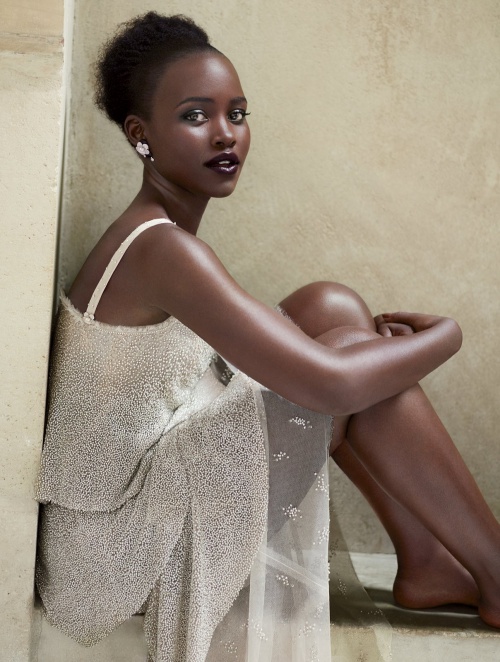 Lupita Nyong'o wearing a Chanel Haute Couture beaded dress and Chanel Fine Jewelry earrings
"I definitely feel there's a lot of America in me. The idea that you can be self-made is very vibrant in America. You can do anything that you want to do. That spirit pushes you on. But it took me leaving Kenya to really appreciate the glory of the place. Ultimately, I will always be a child of Kenya."
-Lupita Nyong'o
Photo Credit: Mert Alas and Marcus Piggott for Vogue
What do you think of Lupita Nyong'o's recent Vogue cover and photoshoot?