Zayn Malik has caused quite a frenzy in 2015. The enigmatic crooner broke off his engagement to fellow pop star Perrie Edwards and then left the world's biggest boyband, One Direction, in favor of venturing into a solo music career. Since then, he's been busy working on his new music while making the rounds on magazine covers. He's been dropping truth bombs on interviews about the force behind the band, what he really thinks of the kind of music that One Direction makes, and his relationship with his former band members Liam Payne, Niall Horan, Harry Styles, and Louis Tomlinson.
On the style front, Zayn rocked the fashion industry in 2015 with a slew of high fashion looks. He attended Valentino's spring 2016 menswear fashion show in Paris in a highly celebrated look that dominated last year's best-dressed lists.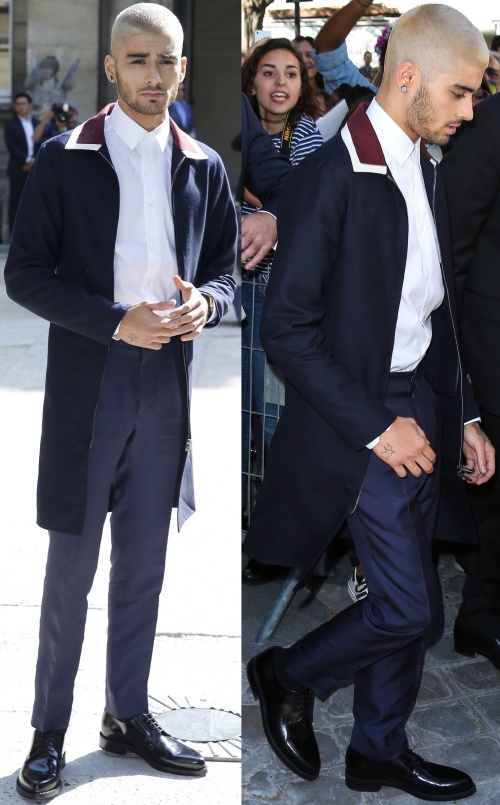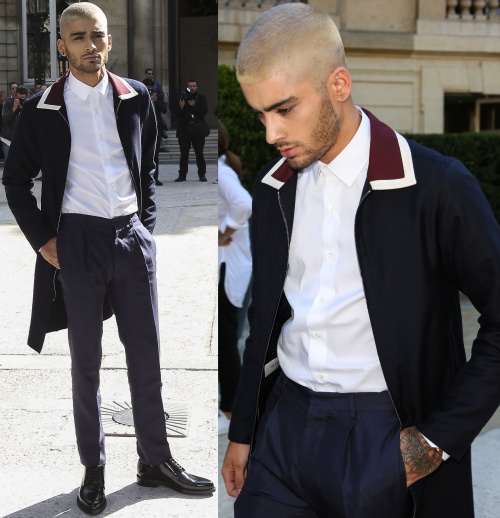 Zayn Malik at the Valentino spring 2016 menswear fashion show in Paris, France, on June 24, 2015
Zayn showed off his style prowess in a sleek Valentino ensemble. He wore a sharp coat over a crisp white shirt tucked into tailored trousers. Black leather shoes and a blond buzz cut finished off his high fashion look. Simple, but totally classy and super slick.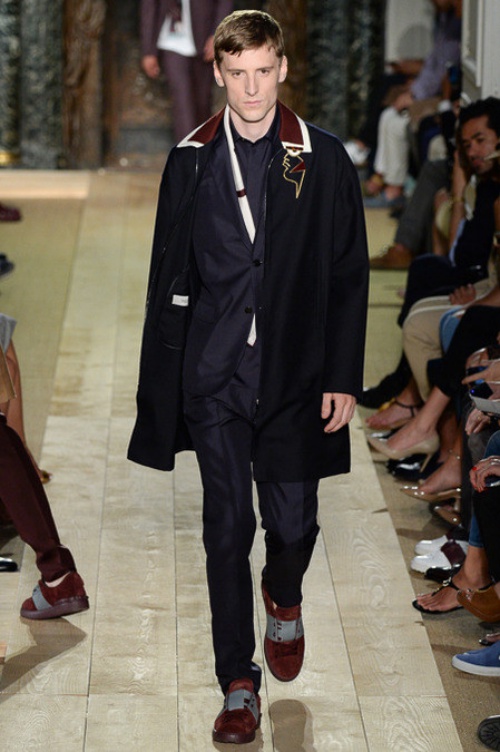 Valentino Spring 2015 Menswear Collection
Last year, the December issue of Fader featured Zayn on the cover and provided a glimpse of his life after One Direction. The 22-year-old singer was photographed by Francesco Nazardo in a series of images that showed him at his most relaxed state: riding around on his bike, shooting arrows, sitting by the fire, and making the most out of his chosen path. Styled by Jason Rembert and Caroline Watson, Zayn was featured in on-trend looks that exuded effortless cool and rock star edge.
Scroll through the images below for a peek at his Fader photoshoot, and get soundbites from his insightful interview with Duncan Cooper:
"I guess I just wanted to go home from the beginning. I was always thinking it. I just didn't know when I was going to do it. Then by the time I decided to go, it just felt right on that day."
"I woke up on that morning, if I'm being completely honest with you, and was like, 'I need to go home. I just need to be me now, because I've had enough.' I was with my little cousin at the time—we were sat in the hotel room—and I was just, 'Should I go home?' And he was like, 'If you want to go home, let's go home.' So we left."
"There was never any room for me to experiment creatively in the band. If I would sing a hook or a verse slightly R&B, or slightly myself, it would always be recorded 50 times until there was a straight version that was pop, generic as fuck, so they could use that version. Whenever I would suggest something, it was like it didn't fit us."
"There was just a general conception that the management already had of what they want for the band, and I just wasn't convinced with what we were selling. I wasn't 100 percent behind the music. It wasn't me. It was music that was already given to us, and we were told this is what is going to sell to these people. As much as we were the biggest, most famous boy band in the world, it felt weird. We were told to be happy about something that we weren't happy about."
"I'm actually quite easy, a happy-go-lucky sort of guy," he says, "but there was a lot of situations that were almost created to make me be portrayed as the mysterious or quiet one. I guess that's just something that people buy into, and it helps them sell things. It's a product that's already designed, and it sells."
"To me, it's like I stood in front of a canvas for about five years, and someone said like, 'You're not allowed to paint on this canvas.' I've got the paint, I've got the fucking brushes, and I can't get it on there. Now someone removed the plastic and was like, 'Alright, you can now paint.'"
Following his Fader feature was a revealing interview for this year's January issue of Billboard magazine. It dropped early this month and has already caused quite a stir on the internet. Photographed by Miller Mobley in Beverly Hills, California, Zayn can be seen in a series of stunning images that capture his impossibly good looks, his air of mystery, and his innate coolness.
Browse through the photographs below for a glimpse of his Billboard magazine spread, and get excerpts from his interview with Chris Martins: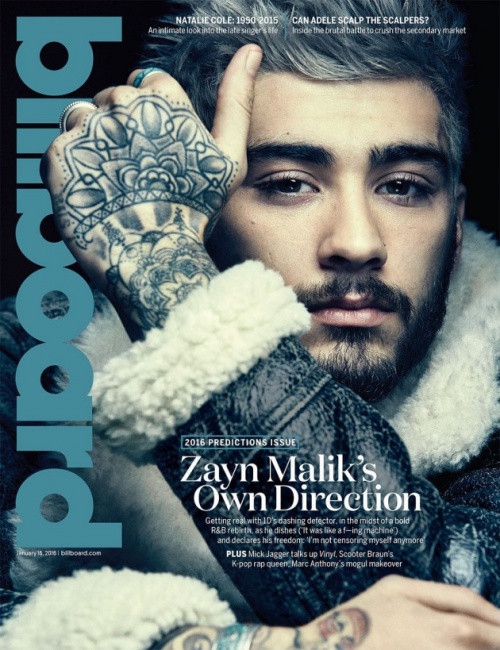 Zayn Malik for Billboard magazine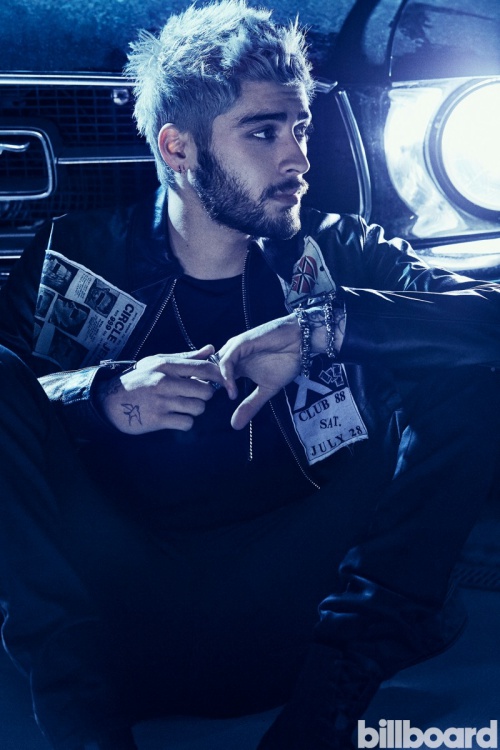 Zayn Malik for Billboard magazine
"The truth of it is you can think one thing about a situation and the total opposite can happen. I had every intention of remaining friends with everybody, but I guess certain phone numbers have changed and I haven't received calls from a lot of people. I've reached out to a few of them and not got a reply. Certain people have pride issues, but it's stuff you overcome in time."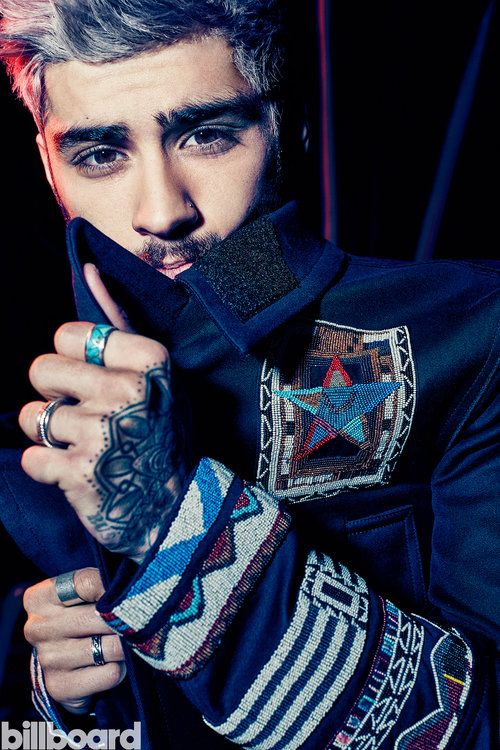 Zayn Malik for Billboard magazine
"People are more intelligent than that. They want to hear what's real, so why don't we write some stuff that we're actually going through?"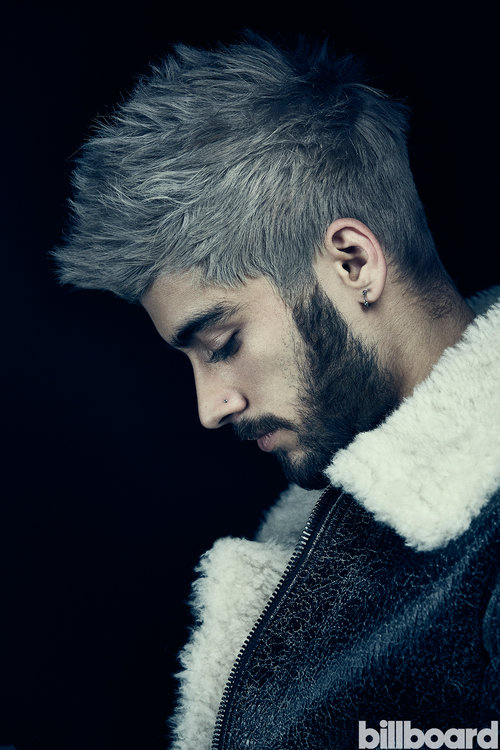 Zayn Malik for Billboard magazine
"I went home," he says. "I seen my mum, who cooked me some great food. I ate for three weeks because I'd lost so much weight in the band. I seen my sisters and put my dad's sheepskin on — I walked around and everyone thought I was him. Nobody bothered me. It was good for my soul to be back in Bradford."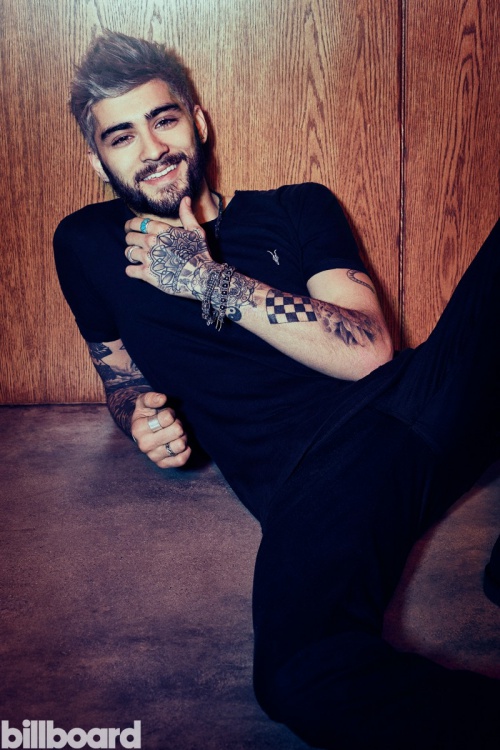 Zayn Malik for Billboard magazine
"I'll come down here and record maybe seven songs a night…That's because I'm enjoying what I'm doing. I'm not censoring myself anymore, so I'm not tired. I love it."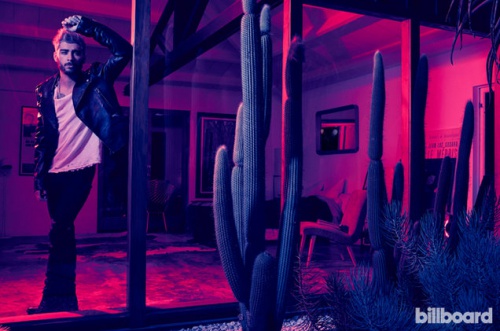 Zayn Malik for Billboard magazine
"I'm incredibly disciplined. I realized I can push myself through situations I might not necessarily want to do, but can overcome by being in the moment. No matter what, I can smile and do whatever I got to do."
Photo Credits: FYZPictures.com, Francesco Nazardo for Fader, and Miller Mobley for Billboard
What do you think of Zayn Malik's magazine features and high fashion look?