Zayn Malik has had a pretty spectacular week. He has been busy promoting Mind of Mine, which is the highly anticipated debut album from the former One Direction member. He has released three music videos and performed twice on The Tonight Show Starring Jimmy Fallon. He has hosted album listening parties, including an intimate one on Periscope for his fans. He has been featured in countless magazines, starred in stunning photoshoots, and answered burgeoning questions about his solo career and his relationship with his former band members.
Mind of Mine just dropped on the same day of his departure from One Direction, and already it has broken multiple records and is now a worldwide number one hit. All eyes are on the 23-year-old superstar, as he navigates his way through the music industry on his own.
But aside from his successful solo music career, Zayn has also been causing quite a frenzy with his sartorial choices. His ever-changing hair styles and effortlessly cool ensembles have been meticulously documented and nitpicked. Fashion critics have fallen in love with Zayn and his impeccable style, which is a clever combination of streetwear and high-fashion. He looks good in anything, but he makes sure that his own personal touch is present in whatever look he's going for at any moment. In this week alone, he has showcased a stellar collection of coats and jackets that have delighted style aficionados and fashion critics alike.
Scroll through the images below for a glimpse at Zayn's impressive outerwear collection:
Zayn surprised his fans by showing up at his album listening party in New York City. His simple dark-colored shirt and jeans were elevated with a stylish peacoat from Versace. It features long sleeves, a hood, and a watercolor-style floral Barocco print over-layer.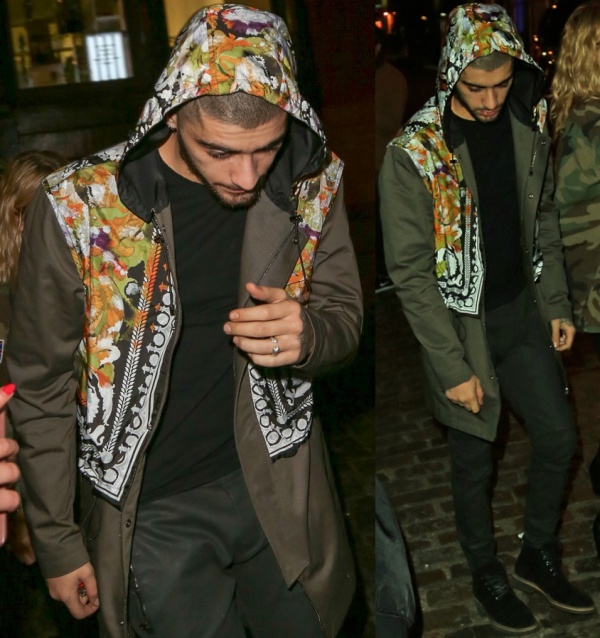 Zayn Malik out and about in New York City on March 23, 2016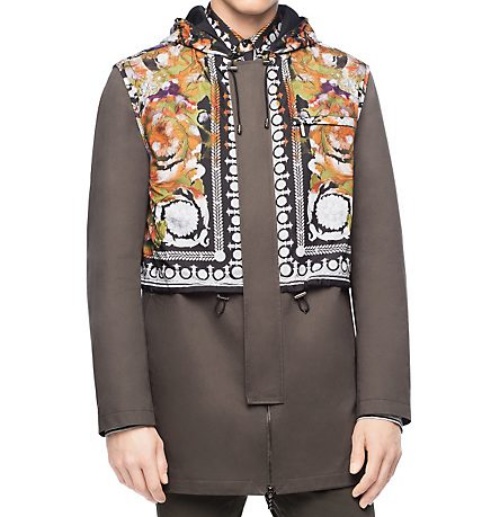 Versace Floral Barocco Peacoat, $2,225
He was spotted the next day wearing a beautiful coat from Valentino's spring/summer 2016 collection. It was worn with a black tee, Diesel Black Gold skinny jeans, and black leather Chelsea boots from Diesel.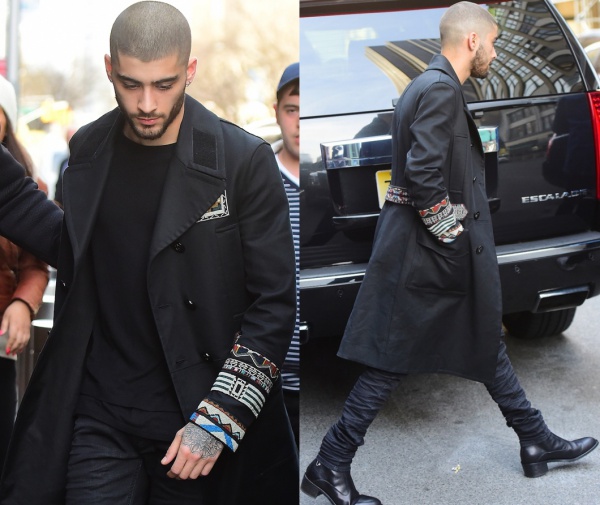 Zayn Malik out and about in New York City on March 24, 2016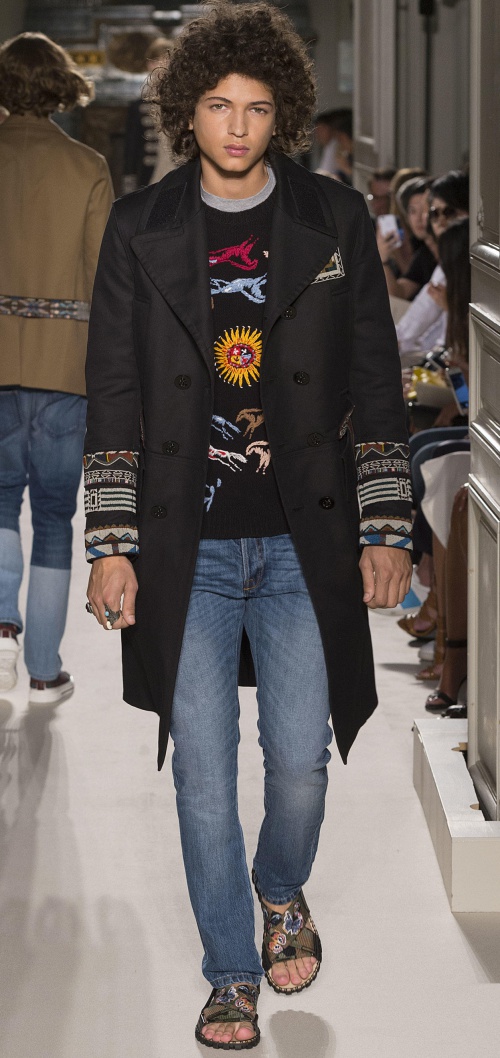 Valentino Spring/Summer 2016 Coat
On the same day, Zayn was photographed wearing a gorgeous maroon leather jacket over a black graphic tee. He styled it with black skinny jeans and a pair of black leather boots.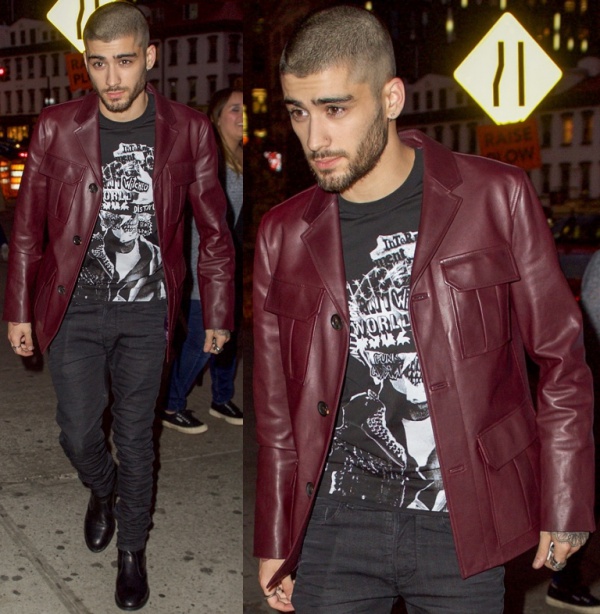 Zayn Malik out and about in New York City on March 24, 2016
Zayn made a guest appearance on The Tonight Show Starring Jimmy Fallon for the second time to perform his second single, "Like I Would." He was clad in his signature all-black ensemble, which consisted of a Pyer Moss tee, black skinny jeans, black leather boots, and a black denim jacket from En Noir. This classic En Noir jean jacket features raw black Japanese denim, paisley motif lining, two front flap pockets, and two waistband tabs.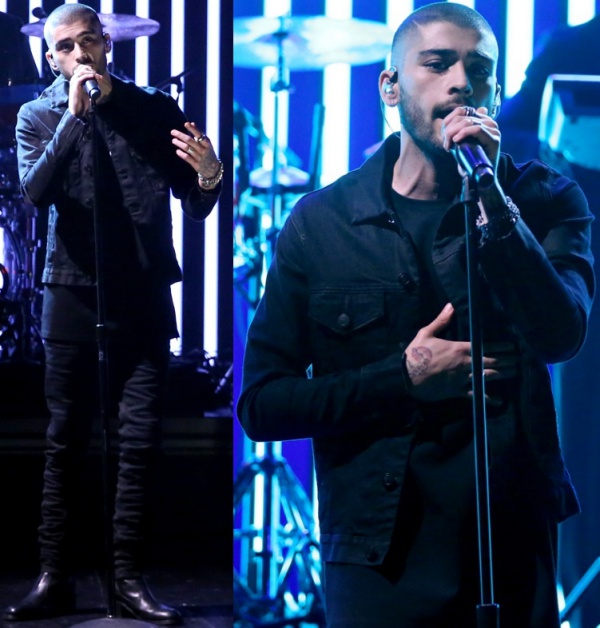 Zayn Malik performing on The Tonight Show Starring Jimmy Fallon in New York City on March 24, 2016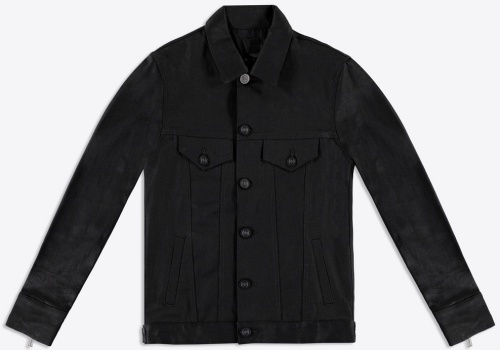 En Noir Hopper Denim Jacket in Raw Cash, $555
Finally, Zayn graced the Honda Stage with his presence for a mini live performance at the iHeartRadio Theater for his fans. Clad in his all-black uniform, Zayn added oomph to his look with a graffiti print biker jacket from Faith Connexion. It features a front zip closure, a belted waist, long sleeves, white graffiti print, and black calf leather. Zayn has previously worn a khaki parka from the brand while he was out with girlfriend Gigi Hadid in Milan.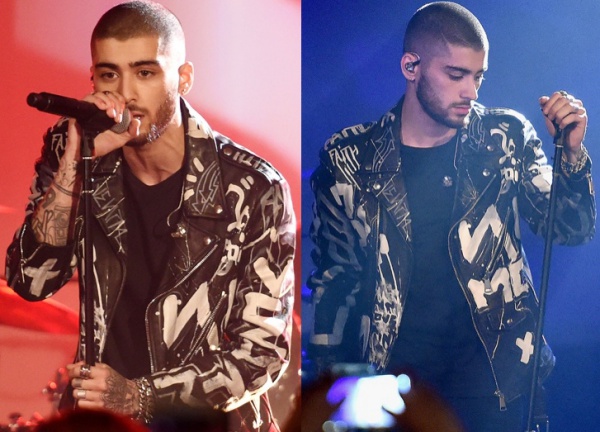 Zayn Malik at the Mind of Mine Album Release Party held on The Honda Stage at the iHeartRadio Theater in New York City on March 25, 2016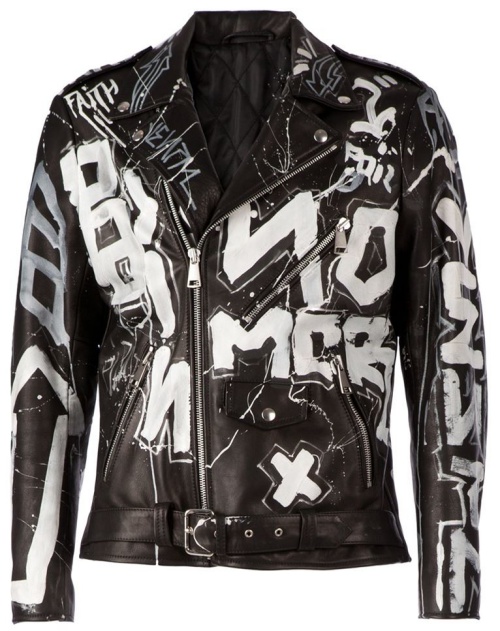 Faith Connexion Graffiti Print Biker Jacket (sold out)
Photo Credit: Zayn Malik Gallery
What do you think of the latest street and stage styles from Zayn Malik?